Growing Tropical Plants In Michigan – Is it Possible?
After this winter, you wouldn't think so, but for those of us who have a sense of adventure and want to push the envelope a bit, there are several plants that can be overwintered here in Michigan that technically should have no place here.  Some of these plants are tropical in nature, and others are just ones that you wouldn't think could survive.  Many of them however will take some diligence on your part to care for and provide adequate location and overwintering preparations.  Those who think that sounds exciting, read on!
"Only those who will risk going too far can possibly find out how far one can go."
-T.S. Elliot.
First, many of these plants may need to be heavily mulched and enclosed in wire netting with stakes to prevent winter burn, and facilitate overwintering, especially during establishment.  Also, you may have a unique microclimate in your yard that makes for a good location for a marginal plant.  Maybe you have an area protected from winter winds and stays warmer throughout the year… this may be an ideal location for your exotic plant.
Alternatively, if you do not want to try overwintering, you can simply pot up a tropical plant and grow it outside during the summer, and bring it in for the winter.  I did this with a gardenia that my sister gave me for Mother's day this year.  Hopefully it makes it through, and also gives me some lovely fragrant flowers for the winter.
Ok, so what can we grow here? Some people have overwintered banana trees and palms right here in Washtenaw county! Here are some that I would like to try…
Magnolia grandiflora – The s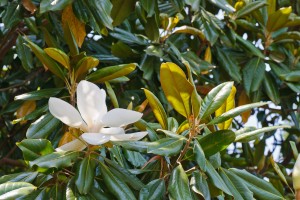 outhern magnolia.  One of the most beautiful evergreen trees for foliage and flowers, the southern magnolia generally grows best in zone 7-9 and prefer an acidic soil.  There are two cultivars that can grow here.
Magnolia grandiflora 'Bracken's Brown Beauty' has survived -20 degree and colder temperatures.  Another cultivar called 'Edith Bogue' has withstood -24 degrees with defoliation.
I have attempted a Magnolia grandiflora once as a very small plant, and it did not overwinter.  I believe it was due to lack of watering on my part rather than hardiness.  I will try again some day! I do however have a Magnolia virginiana in my garden that stays semi evergreen through the winter.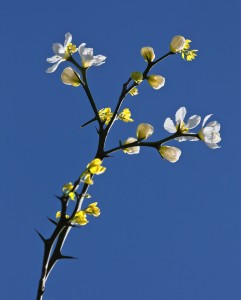 Poncirus trifoliate 'Flying Dragon' – A hardy orange.  This thorny plant is commonly used as a grafting stock for fruiting citrus varieties.  It is cold hardy to -20 degrees, and I have successfully overwintered it here in my zone 6 garden for two years so far.  It is not the prettiest of plants yet, but it's contorted stems and striped bark make it interesting in the winter.  Mine had a few flowers this spring, but has yet to bear any fruit.  Even though it is inedible, it will still be interesting to have oranges on my tree!
Albizia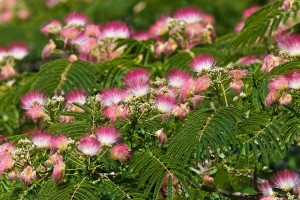 julibrissin – Mimosa tree or Silk tree.  This very tropical looking plant has been recorded to survive -24 degrees.  I have seen more than one very large specimens in Monroe County, Michigan.  One of our local suppliers is growing some small Mimosa trees if anyone wants to give them a try!  They are very unique!
I hope this give some of you courage to try something different and see how you do!  With all of the global warming hype, we may be able to grow real oranges here someday.  As exciting as that may be, let's hope not! There are many more plants that push the envelope a little and create a fun conversation piece for your landscape.  Look for those in a future post, or contact us for more information!
                "Without some boldness the gardener will make no experiments, and his garden will be no more than a copy of his neighbour's."
-Canon Ellacombe